October 28, 2020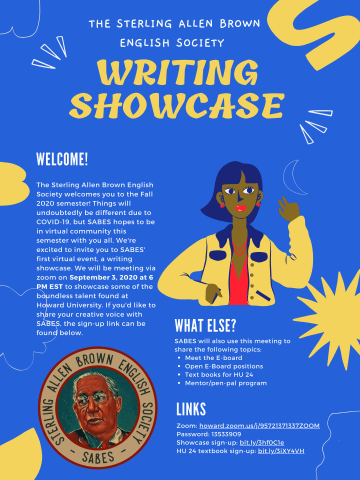 WELCOME!
The Sterling Allen Brown English Society welcomes you to the Fall 2020 semester!
Things will undoubtedly be different due toCOVID-19, but SABES hopes to be in virtual community this semester with you all. We're excited to invite you to SABES' first virtual event, a writing showcase.
We will be meeting via zoom on September 3, 2020 at 6PM EST to showcase some of the boundless talent found at Howard University. If you'd like to share your creative voice with SABES, the sign-up link can be found below.
WHAT ELSE?
SABES will also use this meeting to share the following topics:
Meet the E-board
Open E-Board positions
Text books for HU 24
Mentor/pen-pal program
Links
Zoom: howard.zoom.us/j/95721371337ZOOM
PW: 13533909
Showcase Sign-Up: bit.ly/3hf0C1e
HU 24 textbook sign-up: bit.ly/3iXY4VH
Categories
SABES Events past